On January 17 we made an impromptu trip to Bloomington and Canton Illinois to support one of Ben's friends, Chuck. Chuck's mom, Linda, passed away after a long and courageous fight against cancer. I did not have to pleasure of meeting Linda, but hearing the stories and accolades from those that did, she was an incredible lady that will be greatly missed by family, friends and the community.
Although the initial reason for the trip was not ideal, we were able to visit with Ben's mom and other friends that he had not seen in IL for a while. We went to a
Bloomington PrairieThunder
game with Matt. They are an IHL hockey team. It wasn't quite like going to a Carolina Hurricanes game, but the players were determined and played with everything they had. (unlike some Hurricanes games, heh) The game ended in exciting fashion with Bloomington winning a 9 round shootout. We thought the goalies were going to have to shoot against each other. Matt works at the Johnston's Hockey Pro Shop and is a little bit popular with the hockey crowd. Walking around the US Cellular Center we were stopped time to time with folks wanting to chat with him. After the game we hung out at a pub with Matt's buddies and waited for the PrairieThunder players, but we left before they got there. We stopped by the hockey shop to check out all the gear. Matt fitted Ben with hockey skates...some nice ones...like the kind Eric Staal wears.
On Sunday we browsed the antique furniture Ben's mom has up for grabs. We tagged a few pieces we liked, now the challenge will be getting them to Raleigh. After a nice lunch with mom, we headed to Canton, IL with Matt to attend the viewing. It was good to see Chuck and Karmen and give them a hug in person. I might be a little sentimental, but it was heart-warming to see Chuck, Matt and Ben together. Chuck and Matt were groomsmen in our wedding. Since they live in 3 different states, spanning the country, they don't get to see each other in person that often. Something we talk about being better about, we just need to do it! They were like three peas in a pod reunited. We spent the evening with Chuck, his dad and Karmen.
Monday was the funeral service and a luncheon at the church fellowship hall. We did what we could to support Chuck. I can't imagine what he's going through, but hopefully we made it easier for a bit. For me at least, this is what friends are for.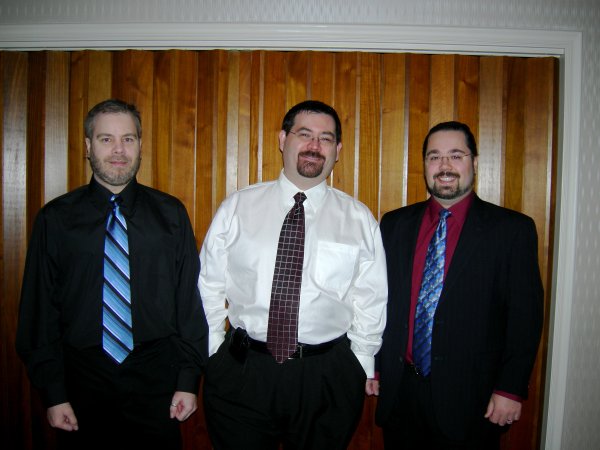 Chuck, Matt, Ben